"Natures treasure chest........"

Thank you, God, for Your goodness..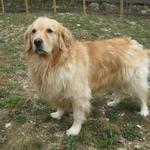 This page is in memory of Annie.  In November she passed suddenly from heart failure.  When she died, she was doing what she loved best.  Fetching tennis balls.  We miss her terribly but we are thankful for what she gave to our family.  We love you, Annie...

English Cream Golden Retrievers

Most people enjoy their dog(s) and usually choose the breed of their preference for different reasons.  Throughout the years, I have had many different breeds of dogs. The Golden Retriever, I find, is an incredible breed of dog.  As I stress the importance of animals being a good fit for families

with children,  there is know doubt that retrievers

fit the role perfectly.  They are gentle, patient, and so happy, they actually smile!  

The English Cream Retrievers are just beautiful.   Their coat is very soft and silky with a bit of a wavy curl to it, especially on their back.  They love to be held, even as adults, so it is common for them to climb up on someones lap and think they fit just perfectly.   They instinctively retrieve which means they are known to bring you things when they are excited to see you.  Being a work dog, they are egar to learn and usually easy to train.  They enjoy hiking and going for walks, stopping to say hello to everyone that passes by.  If I had to think of one negative thing to say about retrievers, it would be that they are not very good watchdogs. An intruder would be their new friend.

We receive many e-mails from families who have purchased our puppies.  I enjoy seeing pictures and hearing cute stories about their dogs.  Most everyone would tell you how wonderful their retriever is and how happy they are with their dog.

Watch for testimonies and pictures on the puppy page. 

We are registered with the American Kennel Club and the Denmark Kennel Club